Wielding an electronic megaphone and huge signs, the extreme religious group Bible Believers did its best to try to disrupt Saturday's Women's March on Washington .
The anti-Islamic, anti-gay group, which had crashed an Arab International Festival in Michigan in 2012 armed with a pig's head on a spike and anti-Islamic signs and had itself been physically attacked for disrupting a Seattle Gay Pride event in 2013, staked out a spot Saturday along Independence Avenue, several blocks from the speakers' podium.
A loud voice
When I first encountered the group around 11 AM, it had set up shop near one of the giant Tv screens that most demonstrators had to rely upon to see and hear the event's speakers.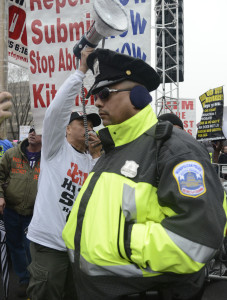 Not satisfied with hoisting giant signs that read  GAY= Got AIDS Yet?, Islam is a religion of Blood and Murder, and BLM are Racist Thugs, the group tried to drown out the closest TV's sound by shouting through their own electronically amplified megaphone—the kind that Inauguration Security would surely have confiscated at Trump's motorcade the day before.
Watch what happened next, as the crowd figures out a way to show that love trumps hate:
The crowd continued to contain the religious group by surrounding it:
Taunting and baiting
About three hours later, as the marchers began their trek to Constitution Avenue, a few demonstrators couldn't resist poking some fun at the self-righteous group, which elicited a lecture from them on The Birds and the Bees:
Soon, one group member —a self-proclaimed "patriarch," began baiting the crowd with an over-the-top shirt that demeaned women.
It is a testimony to the self-discipline of the Women's March demonstrators that no violence took place despite these nasty provocations.